Top 20 Routes for Jeep Safari in India
Posted on Tue, 20 May 2014 09:29:06 by Nidhi Singh
Adventure in India has so much to it; I mean you just cannot stop thinking what you want to do next; there are in fact natural signs that provoke you to take up adventure after adventure. The series of paradoxes followed by the motley of landscape and culture have been the main driving force for adventure aficionados to traverse borders and set out for an unsurpassed journey in India. I believe Jeep Safari tours are one of the best ways to explore the diversity fair as it allows you to take up rugged terrains and challenging trails, besides you can stop wherever you want and whenever you want! It is indeed a 4X4 hysteria taking a toll over your untouched targets and dreams. What we have here is a list of top routes for Jeep Safari in India that may help you trudge through your dream destinations without sorting a map much:
And Indian Himalaya it is…
Delhi – Manali – Leh Jeep Safari Tour: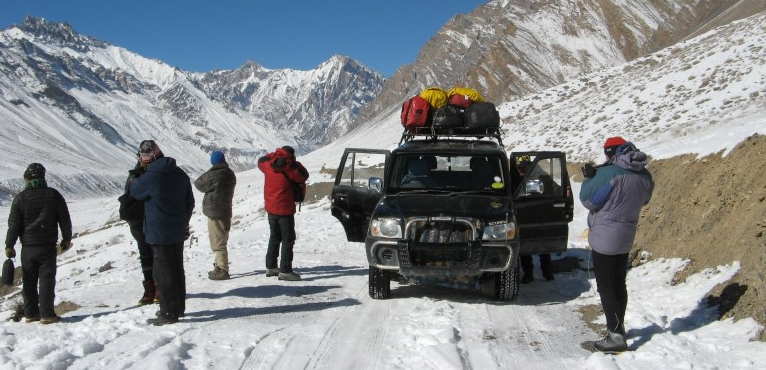 This route is inarguably every adventure enthusiasts' favourite.  Beginning from Delhi, the jeep safari cuts and runs through Manali, Sarchu, Leh, Hemis, Khardung La and finally returns to Delhi from Leh by flight. You are going to cover about 1144kms on one side. Once you get going on this trip you can expect to witness the landscape changing from lush green to barren jagged mountains, temperature also varies greatly and you begin to feel the difference once you cross Manali and reach Lahaul valley via the famed Rohtang Pass. The next big stop will be Sarchu (4290m), which is a major halt for camping. Keylong, Zingzingbar Jispa and Baralacha la are some of the notable places that you will cross across before reaching Sarchu. Take the motorable road to Leh and pass through the majestic Gata Loops, which have 22 hairpin bends, traverse through Lachung La, Pang and finally Tanglang La, after which you will be crossing the mighty River Indus to reach Upshi. Following the same Manali – Leh Highway, you can reach Hemis and from here further drive to Leh.
The Delhi-Manali-Leh jeep safari tour lets you experience a mélange of culture and urges you to take up more challenging safari down the Ladakh lanes. Along with witnessing dramatic landscape change, you are in for some historical visit as well with sighting of the majestic River Indus (after which India has been named), Hemis Monastery (one of India's largest and wealthiest Tibetan Buddhist monasteries) and Khardung la (One of the highest motorable mountain passes in the world). Be prepared to encounter rough and moody weather to meet you unexpectedly and although being a part of National highway you may get your share of bumpy ride here and there. The entire journey can be estimated to complete in 8 full days.
Ladakh – Lakes Jeep Safari Tours: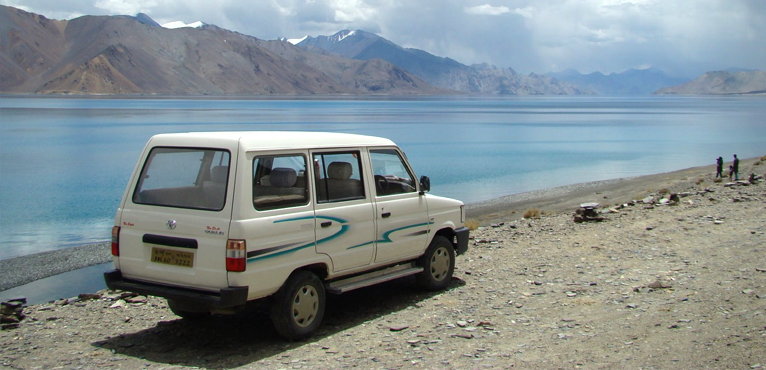 An adventure in Ladakh is incomplete without the great and grand lake jeep safari tour in Ladakh. The high altitude azure lakes call out to nature lovers and explorers and then gradually steal their heart away. This is one of the best jeep safari tours in Ladakh that you should not miss out on. A sheer 10 days adventure will leave you totally in love with the beautiful Ladakh region. The journey for obvious reasons begins from Delhi and via the beautiful Manali. You take the same Manali-Leh highway and cutting and crossing through the Lahaul valley via the Rohtang Pass reaches Sarchu. The same route takes you to Mangzul that has two roads, out of which one takes you to the beautiful Tso Kar, Tso Moriri, Pangong Tso and  then finally to Leh city, where you can take a day off to get acclimatized to the region before visiting  Khardung La.
Expect to be dazzled by the azure beauty of the three high altitude lakes. These oligotrophic lakes are perfect reflection of Ladakh's beauty, surrounded by serrated mountains; the lakes are also the paradise for migratory birds, which make the picture here more lively and colourful. You can camp in the vicinity of the lake and also can capture some of the most beautiful landscape pictures here. Leh will be your next stop from where you can head out for the famed Khardung Pass, which is considered to be the 3rd highest motorable mountain pass in the world after Marsimik La. Feel the adrenaline rush as you drive to this high pass in Indian Himalaya. Your journey comes to end here but fortunately you will have too much to take back home with you!
Ladakh – Monasteries Jeep Safari Tour: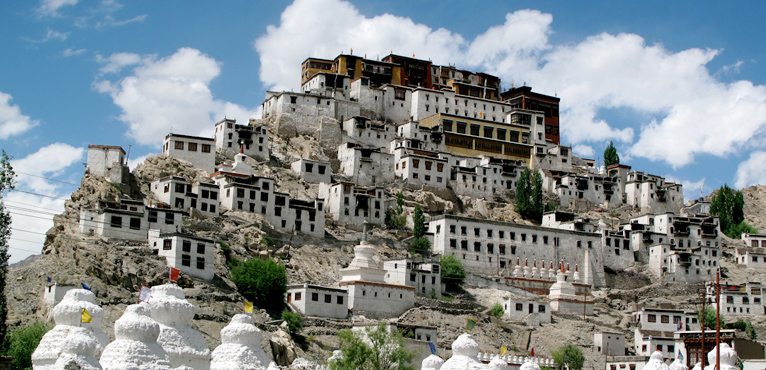 Beside its spectacular beauty and exception factor, Ladakh is known for its majestic age-old Tibetan monasteries. These monasteries are the cultural centres of Ladakh and reflect much more than a religious belief. You can find a rich collection of Thangkas, life-size and gigantic Buddha statue and a treasure of ancient manuscripts. Expect to be mesmerized by the architecture and the surrounding landscape. A monastery jeep safari tour in Ladakh is something that has to do with your spiritual and adventure impulse, so get ready to step up in the sun and begin the unsurpassed journey of your life. Well the question is where will you start the journey for the monastery tour?  After arriving at Leh, which hosts an array of monasteries like Samakar, Tsemo, Spituk and Phyang, wheel to Hemis and pay a visit to Stakna, Thiksey and Shey.  As you take the 1D Highway from Leh to Kargil, you can stop by some of the the oldest monasteries in Ladakh like Alchi and Lamayuru. Drive to Rangdum (130kms from Kargil) and visit another spectacularly built monastery here and then return to Kargil.  In order to steal more adventure time you can drive to Delhi via Sonmarg and Srinagar instead of taking the same route back to Leh.
Ladakh Highest Pass Jeep Safari Tours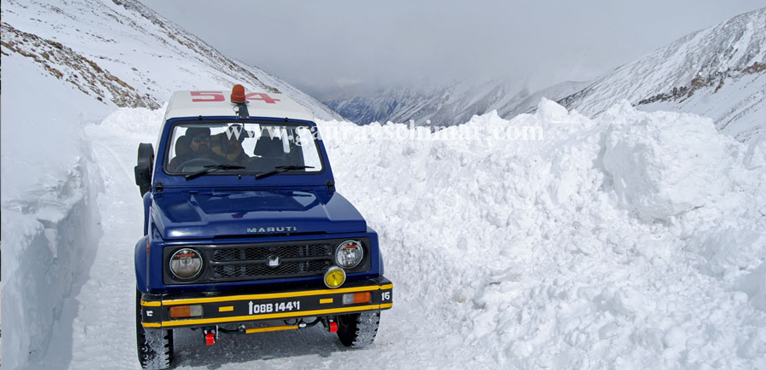 If you are one of those who enjoy taking sun slow, then you are certainly someone who would enjoy taking a jeep safari tour to the high mountain passes in the Indian Himalaya. With the landscape challenging your patience and endurance, you can drive to a well-mettled road to India's two highest mountain passes namely Khardung La and Marsimik La. You can start the safari by taking the Manali-Leh Highway and reach Leh City. This is the major stop of your high mountain pass jeep safari tour in Ladakh, from here you can first drive to Khardung la (5359m), which is considered to be the third highest pass in the world. Cross through Gangles and follow the Khardung Road to finally reach the majestic Khardung Pass. As you return to Leh, prepare to embrace something bigger and better in the form of the world's highest mountain pass Marsimik La. The route cuts and covers through high altitude Pangong Lake and the world's fourth highest mountain pass called Chang La. Phobrang will be a major stop before Marsimik, from where the high velocity winds begins to take a toll. This jeep safari is once in a lifetime adventure that can give any adventure enthusiast a reason to celebrate.
Lahaul – Spiti – Ladakh Jeep Safari Tour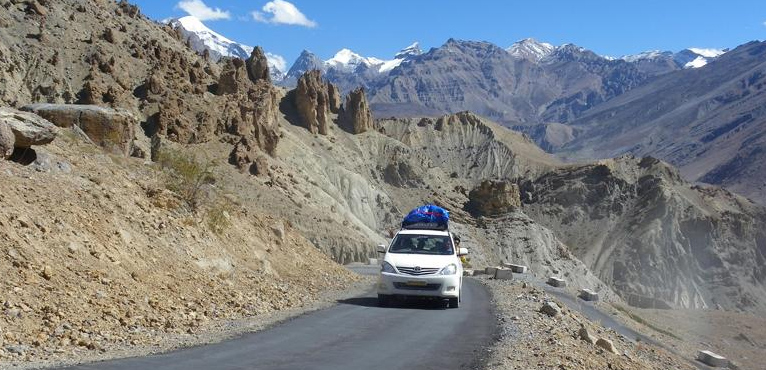 You are going to love the journey to Lahaul and Spiti, which can also be called the reflection of Ladakh. The twin sister rule is followed in this part as the similar landscape, weather and fauna of Ladakh can be seen here. In a jeep safari tour to Lahaul and Spiti Valley, you are likely to witness the dramatic landscape change as soon as you enter the Lahaul-Spiti district. Your safari tour begins from Delhi and covers beautiful destinations in Himachal like Chail (Solan district), which is about 362kms from Delhi and is known for its peaceful ambiance and scenic landscape. Drive further to the ever so beautiful Sangla or Sangla Valley or Baspa Valley (Kinnaur district) via Ambla-Shimla-Kaurik Road. A five hour ride will take you to this beautiful destination famed for Nages Temple and the meandering Baspa River. From here whiz your jeep to Chitkul (Kinnaur district), which is at a distance of 23kms from Sangla. Chitkul is a small village that is known for potatoes and pristine landscape.  Tabo in the Lahaul-Spiti district will be your next destination, which is situated 212kms from Chitkul. Tabo is a small town on the bank of River Spiti and is known for its ancient Buddhist Monastery. From Tabo drive to Kaza (Lahaul-Spiti district) that can be reached from Tabo via Leo Village Road.  Kaza has a quaint charm and is mostly famous as a starting point of many treks in the mountains and Ki Gompa and Kibber. You can choose to pass through Manali when you return to Delhi; this will give you the opportunity to explore some of the best places in Himachal Pradesh.
Delhi – Dharamshala- Mcleod Ganj – Amritsar – Delhi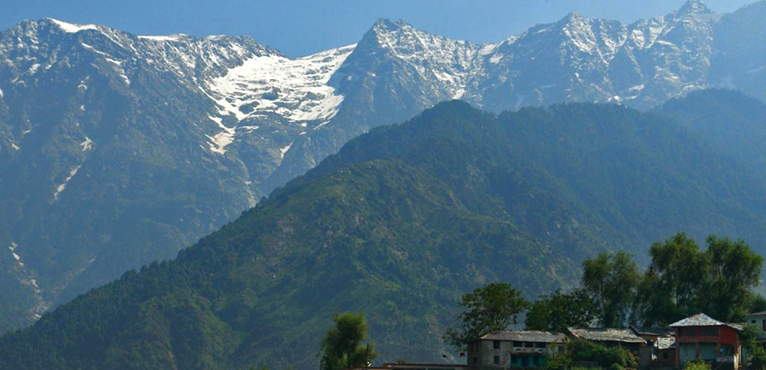 The best thing about any jeep safari is that you can whiz off in your car as long and as far you want too! Whether a long or a short travel, India has this peculiar thing for comfortable journey and I believe there is nothing better than a jeep safari that offers a mix of both comfort and adventure. Amongst the many renowned jeep safari routes of Himachal Pradesh, the Delhi-Mcleodganj jeep safari is worth taking a shot at. Starting from Delhi, head straight out to the beautiful Kangra town in the naturally gifted Kangra district by taking Grand Trunk Road. After halting in the town, you can set out for Kangra Valley, a beautiful place to witness the spectacular Dhauladhar range and the cascading perennial streams. The Chamunda Temple and the Brijeshwari Temple are the main attractions of the Kangra district. Head out for Dharamshala from Kangra (39kms) via Mandi-Pathankot Road. Dharamshala and Mcleodganj are said to be the Budhhist centres in Himachal Pradesh. Visit the famous Bhagsunag Waterfall and Masroor (Indo-Aryan style rock-cut temple) here and then drive to Amritsar for a sacred experience at the Golden Temple. Following the same Mandi-Pathankot Road and then taking NH 1, you will be able to reach Amritsar within 4hrs. To conclude your spectacular journey, drive from Amritsar to Delhi.
Garhwal Himalayas Jeep Safari Tour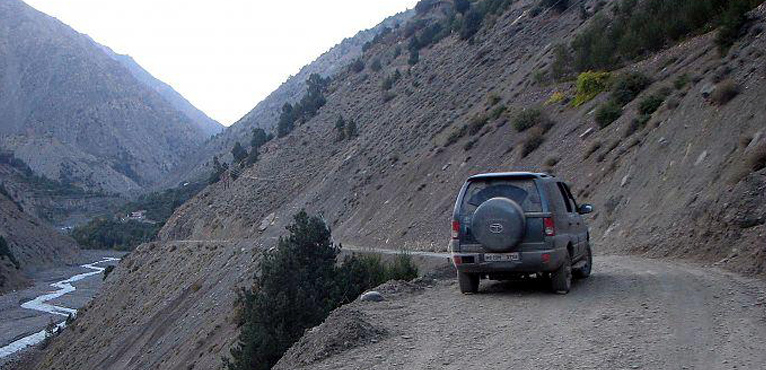 One of the best tours in the Indian Himalaya waits right in the lap of Uttarakhand. Dubbed as God's Land, the state is full of spiritual getaways and adventure hideouts as well. So, what you can expect in Uttarakhand is the perfect expedition with a tinge of adventure in every exploration. An ideal jeep safari tour in Uttarakhand should include destinations that are both pious and appeal the adventure instincts. The jeep safari tour in Garhwal Himalaya is one of the best tours exploratory tours in the state as it covers some of the most beautiful places of Garhwal region. You can begin the journey from the mesmerizing and upbeat Rishikesh, raft or two here with other adventure activities can give you a good head start about this road trip. Reach Tapovan and bathe in the hot springs that has medicinal properties here and drive to the beautiful Auli. Witness some of the best skiing slopes in the world and the majestic landscape in Auli. Your next destination will be the doors of Lord Badri, whiz your jeep to the abode of Lord Vishnu and along with paying homage to the deity you can witness the splendor of the scenic landscape that the place has to offer you. Uttarkashi will be your next stop from where you will be driving to Gangotri, which is another important destination of Chardham Yatra in Uttarakhand. Conclude your journey at scenic Mussoorie and find your way back to Delhi from here.
Corbett National Park Jeep Safari Tour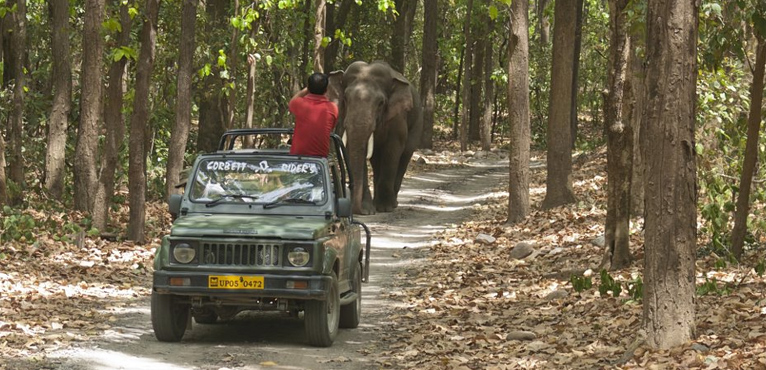 The idea of covering a national park in a jeep safari is fascinating, isn't it! Well, in Uttarakhand where Corbett National Park has marked the identity for plethora of flora and fauna, it is indeed a great idea to set out for the expedition. Wildlife and natural charms are the important pillars of this journey. Covering beautiful destinations like Binsar and Munsyari, you can guarantee yourself a trip of a lifetime. For obvious reasons Delhi will be the base of the journey, from the capital to wildlife capital Corbett National Park (253kms from Delhi), you are assured of some smooth travel. Taking the NH 24 you can easily reach the national park from Delhi. The beautiful Binsar is next in the Kumaoni belt of Uttarakhand. Situated around 240kms from Corbett, Binsar is a beautiful town, which offers mesmerizing view of peaks like Kedarnath, Trishul, Nanda Devi Kot, Chaukhamba and Panchchuli. Through Bageshwar and Kapkot drive to the exemplary and scenic Munsyari. Also dubbed as the home of Panchachuli Peaks, Munsiyari is a paradise for nature lovers. Birthi Falls, Betulidhar and Maheshwari Kund are the main attraction of Munsiyari. Drive to another Kumaoni extravaganza waiting for you at Chaukori, the town is about 95kms from Munsiyari and can be reached taking Munsiyari – Thal road that has important stops like Kalamuni temple, Nachani and Thal. Chaukori offers great cultural reflection of the state; temples are the main attractions here but the natural splendor outreaches everything. The last destination of the Kumaon belt in this jeep safari tour is Mukteshwar, which is situated about 130kms from Chaukori and can be reached by Bageshwar- Didihat Road. You can visit the 350 years old Shiva Temple here for which the place is famed for.
Himalayan Jeep Safari Tour – Punjab and Himachal Pradesh
A jeep safari expedition in Himalaya can be the perfect way to explore the realm of the mighty mountain range. Drive from Delhi to Amritsar through the NH 71 and SH 11; you can visit the much famed Golden Temple and also not forget to take delight in the scrumptious Amritsari cuisine. An approximate drive to the distance of 238kms will take you to one of the best destinations in Himachal Pradesh, Dharamshala. Known as the abode of Dalai Lama, Dharamshala is famous for its mighty cricket stadium and the upper part known as Mcleodganj. From here vroom to the beautiful and awe-aspiring Manali, which is situated at a distance of 247kms from Dharamshala and can be driven to via Mandi-Pathankot Road. Cross the famous Rohtang Pass as you head for your other important destination at Keylong. Through Keylong take the jeep safari to Leh via Sarchu (106kms from Keylong). Leh can be the real attention grabber, with several Buddhist Gompas and colourful Bazaars and breathtaking landscape, the city does by no means offer dreary conclusion to any trip.
Across the Himalaya Jeep Safari Tour –Uttarakhand-Himachal Pradesh-Ladakh
The vivid members of the Himalayan kingdom offer different charm and quality. Thus it seems like a brilliant idea to traverse through three different states that have a common thread tying their identity – Uttarakhand, Himachal Pradesh and Ladakh which are indeed the most vital regions where the Himalayan reign can be seen in full swing. This particular jeep tour demands lot of patience and devotion of at least 22days. You can expect a mixed cultural tour, in which you will be able to see, traverse and come across many sacred places, tourist places, adventure destinations and virgin lands. The jeep safari tour across the Himalaya can begin from Nainital, which lies in the Kumaon region of Uttarakhand. An ideal jeep safari route will be from Delhi- Nainital – Almora – Gwaldam – Rudraprayag – Uttarkashi – Gangotri – Uttarkashi – Chamba – Mussoorie – Paonta Sahib – Shimla – Sarahan – Recongpeo – Kalpa – Nako – Tabo – – Dhankar – Kaza – Kibber – Chhota Dara – Batal – Keylong – Jispa – Sarchu – Pang – Leh – Delhi.
Wheeling through the Medieval Era…
Adventure and exploration come hand in hand. An expedition that captures both culture and adventure can said to be the best. A jeep safari tour beginning right from the melting pot of culture, Delhi to the medieval era cultural hub Rajasthan via the sacred lands of Uttar Pradesh seems nothing less than perfect. If India's culture and diversity are what excites you the most then this jeep safari tour is definitely for you. Whiz your 4X4 through the controlled accessed Yamuna Expressway to greet the natives of Krishna land at Vrindavana and Mathura (181kms and 183kms via Yamuna Expressway from Delhi). Take NH 2 from here to set out for the city of Taj Mahal, Agra (59kms from Mathura). If you are running short of time, you can at least visit Sikandra or Akbar's Tomb and for obvious reason Taj Mahal. Drive to Bharatpur (55kms from Agra) via Fatehpur Sikri and Bichpuri Road and then drive further to Ranthambore. You can visit the Keoladeo National Park in Bharatpur, which was earlier known as Bharatpur Bird Sanctuary. You have a good chance to visit the royal territory of Bengal Tigers at Ranthambore National Park and make sure you make the most of it. Set out on SH 24 to reach Jaipur to explore the right reflection of Rajasthan and then further drive to Alwar via Delhi-Ajmer Expressway and SH 13 and watch the real picture of royal Rajasthan.
A Drive Back in Time… The Central India Jeep Safari Tour
The hangover of cultural India never seem to end, the culturally republic India have lush colours to offer. Central India rejoices in the rich history that it could stock up for exhibition in the contemporary world. From the urban legends to explicit sculptures, from the tales of valour to the timeless architectures, Central India opens a Pandora's box for the willing. So, if this is the case then a jeep safari to this part of the country is worth experiencing. You can set out from Delhi and drive to the Gwalior via Yamuna Expressway. Situated around 349kms away from Delhi, Gwalior can rightly be called the cradle of many dynasties including Scindia; further, it is also the hub of rich art, music and dance. Wheel through Jhansi via NH 75 and witness the marvels of the Chandela dynasty here-the Jhansi Fort is the main attraction here.  Get the cultural best at Khajuraho, which is about 175kms away from Jhansi and can easily be reached via NH 75. The mirror of soulful India, Khajuraho will be the ending point of this cultural journey in Central India.
Jeep Safari on the Foothill of Himalaya
You just cannot have enough of the Himalaya tour ever! The scenic beauty and the adventure factor, always keep this jeep safari tour in demand. It can be an ideal summer jeep safari tour offering both adventure and rejuvenation. Wheel through Haridwar and then leave for Rishikesh, which is merely 24kms from here. Take time off at Rishikesh and indulge in the main attraction of White Water River rafting here. Further drive to Mussoorie (73kms from Rishikesh) via Haridwar-Dehradun Road. A small hill station, Mussoorie is a great place to relax and enjoy the summer break. Drive to another great destination of the foothill of Himalaya, Lansdowne, which is about 202kms from Mussoorie and can be reached via Ambala-Haridwar Dehradun Road. Lansdowne is a quiet hill station and is better known for lazy holidays. So you can expect a brilliant jeep safari and relax in the perfect ambiance with a tinge of adventure here and there.
Heritage Jeep Safari Tour
From the roars of the royal Bengal Tigers to the deafening silence of the majestic forts and desert, Rajasthan is the playground of a number of odd players. It is always a delight to dive into the pool of knowledge and cultural wealth that this part of the country stores. Therefore, it is certainly a great idea to take a jeep safari tour in Rajasthan. One of the ideal routes for jeep safari tour in Rajasthan would be Delhi – Agra – Ranthambore – Jaipur – Bikaner – Jaisalmer – Jodhpur – Udaipur – Mt. Abu – Ajmer – Delhi. This jeep expedition will let you explore the core of Rajasthan, and you will have an opportunity to plunge through the culture and tradition and go beyond the usual and the unique. Wildlife exploration, relaxing opportunity, sailing through desert, exploration of plethora of handicrafts, witnessing puppetry skills, tasting the sumptuous Rajasthani cuisine and being inspired by the majestic architecture can be your ultimate experience during this Heritage Jeep Safari Tour to Rajasthan.
Uttarakhand Jumble Jeep Safari Tour
Serenading the sweet songs of nature, Uttarakhand invites nature enthusiasts and adventure aficionado to a potpourri of landscape and culture.  Drive through the land of Gods and experience the bliss of nature all around you. You can plan a jeep safari tour in Uttarakhand that includes some of the best destinations of both Kumaon and Garhwal region. Your safari tour can begin from the majestic Ranikhet (357kms from Delhi), which is a small town that offers a rejuvenating experience. Further drive via NH 87 to the beautiful Lake City, Nainital (56kms from Ranikhet) and explore the gift of nature, with bean shaped lake in the valley, Nainital is one of the most beautiful places to visit in Uttarakhand. Taking the same route, the jeep safari continues to Rudraprayag (238kms from Nainital), which is the one of the important destinations where Alaknanda River confluences.  From Rudraprayag two routes to two important places of the Chardham Yatra i.e Badrinath and Kedarnath divides . Drive via NH 58 to Joshimath, which is a vital stop for pilgrims heading to Badrinath and trekkers heading towards Valley of Flowers, Hemkund Sahib and Nanda Devi Biosphere Reserve. By the time you pass Joshimath, you can actually smell the sacred air of Badrinath ji, situated approximately 45kms from here. This last destination of the jumbled jeep safari tour in Uttarakhand is real attention grabber as it stands at an altitude of about 3100m and it offers splendid view along with showering one with God's abundant blessings. You can wheel back to Delhi taking the same route from here.
The West Meets the South Jeep Safari Tour
Mumbai seem to be an ideal place to sneak out from the confines of mundane. A pleasant yet adventurous jeep safari in South India would ideally be covering the vivacious state of Goa, Karnataka and the beautiful Kerala. It does sound as a great safari expedition isn't? Although, there are many ways of covering the three states in an expedition, the best route for Jeep Safari would be from Mumbai to Kolhapur via AH 47/ NH4. Kolhapur is known for its rich culture and the Mahalakshmi Temple is the main focus here. Do not forget to taste the spicy Kolhapuri Chicken and buy yourself some Kolhapuri Chappals (Sandals) that this place is famous for. Drive to the vibrant Goa, which is also known as the party hub of the country. The same NH 4 and the Panjim-Belgaum Road will take you to your destination. Take delight in sumptuous seafood, enjoy the powerful nightlife and witness some of the best Portuguese architecture in India here. An approximate 354kms drive via Edapally-Panvel Highway along the Arabian Sea shore will take you to Mangalore. The city is known for offering a calm and quiet holiday experience; it can be an ideal spot for you to relax after party hard in Goa and before reaching the ultimate rejuvenating point better known as Munnar. The distance from Mangalore to Munnar is about 510kms and one can drive along the coastline of Arabian Sea via the Edapally-Panvel Highway. Munnar is nothing short of a vacation with sprawling tea gardens, undulating hills and soothing climate. It is indeed a place to reward yourself after a tiresome jeep expedition.
South Power Punch Jeep Safari Tour
Southern India is certainly one of the most adventurous places in India. Culture, language and landscape are the frontiers that make any nature lover and adventure freak to head towards this part of the country. The abundance of rich architecture and the scope of getting closer to the Indian Ocean, Bay of Bengal and the Arabian Sea are also the highlights of any tour in South India. This particular south jeep safari tour will let you explore the best of Kerala and Tamil Nadu. Go coast to coast with the wind in your hair and sand at your feet right beginning from Kozikode. It is a beautiful city located along the coast of the Arabian Sea offering resplendent views and clear water to soak your feet in. Drive-off to Alappuzha via the Edapally-Panvel Highway and Salem-Kochi-Kanyakumari Highway. Alleppey or Alappuzha is famed for its backwaters and houseboats offering visitors time of their life.
Another junction to head in Kerala is beautiful Cochin, which is about 58kms from Alappuzha. As a coastal town, Kochi or Cochin is a popular tourist attraction with plenty of historical places to witness. A drive of approximately 290kms will take you to Kanyakumari via Salem-Kochi-Kanyakumari Highway.  The southern tip of India as it is known as, Kanyakumari is certainly a must visit in South India. Your next stop for the jeep safari tour can be Madurai, situated about 244kms away from Kanyakumari, the city of Meenakshi temple can be reached via NH 7. Make sure you spend some time gazing at the stupenduous architectural marvels here. A drive through Kochi-Dhanushkodi Road will take you to another religious epitome in south India, Rameshwaram. Situated at distance of about 175kms from Madurai, Rameshwaram is one of the main destinations of the Chardham Yatra (India). You have to cross the cantilever bridge, which is called the Pamban Bridge to reach the Ramanathanswamy Temple. What stuns one the most at Rameshwaram is its sea-green water; from the top of the water one can actually see the sand under the water here. Thus Rameshwaram is indeed the highlight of this jeep safari expedition.
However, your journey doesn't end here, Pondicherry or Puducherry will be your next stop and if you think that you had enough of southern culture and beauty, Pondicherry is an up class French influenced place, heritage buildings in the older part and the Aurobindo Asharam are the striking features here. A drive of about 380kms will take you to Puducherry from Rameshawaram via E Coast Road. Your last stop will be the Chennai (161kms from Puducherry), which will bring an end to your cultural escapade. The capital of Tamil Nadu, Chennai is a bustling town with several relics of architecture, a perfect blend of modern and traditional can be seen in the city which offers you all kinds of luxury and rejuvenation option… simply the best destination to end the long jeep safari tour in South India.
South India Jeep Safari Tour
Perfect escapades and the jeep safari to accompany it, South India has become the realm of adventure enthusiasts now.  Blessed with destinations that have great cultural, traditional and natural gift, the states of South India like Karnataka and Tamil Nadu enjoy their share of fame. An ideal expedition in these two states would begin from Bangalore and accelerate the jeep to Mysore, which is nearly 145kms from Bangalore. Famed for its architecture and quaint charm, make sure you visit Mysore Palace, Ranganathanswamy Temple and Jagmohan Temple. A drive of about 129kms from Mysore leads to Coorg or Kodagu. Coorg is a scenic destination that provides a great time to the nature lovers; the soothing weather and lush greenery are striking features here. Drive through SH 86 that leads to the massive Bandipur National Park. If you are a wildlife enthusiast, Bandipur is the right place for you; take your time to explore the rich flora and fauna of the region here. Drive through the border of Bandipur National Park by taking MDR 700 and Coimbatore – Ooty – Gundlupet Highway or Trichy-Karur-Coimbatore Road to reach Ooty in the state of Tamil Nadu. A famous tourist attraction, Ooty is known for its huge lake and salubrious weather. You have a great opportunity to drive further south and reach Coimbatore (86kms from Ooty) by taking the same highway ahead. Coimbatore is yet another great tourist attraction in Tamil Nadu and is indeed the best destination to conclude this great jeep safari.
East India Jeep Safari Tour
Eastern India has a charm of its own- the cultural richness, the natural lavishness and the adventure abundance seem to compel adventure and nature lovers to trudge to this part of the country. The vastness and the challenging geography often are the prime reasons why jeep safari in east India is worth taking. An idyllic jeep safari adventure will cover destinations like Bhubaneshwar, Puri, Konark, Kolkata, Bolpur, Siliguri, Kalimpong, Darjeeling and Gangtok. This expedition will let you explore the diverse culture, tradition and beautiful destinations of Sikkim, Orissa and West Bengal. An ideal route for jeep safari in East India would be Bhubaneshwar – Puri – Konark – Kolkata – Bolpur – Siliguri – Darjeeling via Kalimpong -Gangtok via Pelling or Ravangla-Siliguri. Get an opportunity to witness the massive Jagannath Temple in Puri, the ancient Sun Temple at Konark, the colourful culture of Kolkata, the majestic tea estates of Darjeeling and the undying beauty of Gangtok, Pelling and Ravangla along with the view of mighty Mt. Khangchendzonga. Do not forget to take delight in the lipsmacking cuisine and shopping for the local handicrafts here.
Guwahati-Tawang Jeep Safari Tour
Adventure knows no end in North-East India, where the challenging terrains and the beauty of the ultimate landscapes are the main attractions that bring adventure enthusiast to this part of the country. Amongst the varied adventure activities, jeep safari expedition is one of the best adventures to pick in North-East. There are many terrains and trails that are open for adventurists to conquer and one of the best in this aspect is the Guwahati-Tawang jeep safari expedition. One of the most challenging road trips in the North-East begins from Tezpur in Assam, which is a multifaceted city with historical connections. A drive via NH 52 from Tezpur leads to your second destination called Bhalukpong (57kms from Tezpur). Situated in Arunachal Pradesh, Bhalukpong is a scenic destination with high mountains, flower-strewn trails. Situated close to the Indi-Chinese border, your next destination Bomdila (98kms from Bhalukpong) is a paradise on earth, quaint set up and the serene ambiance are the best features of this destination.  Drive via NH 229 to reach the small yet beautiful hill station called Dirang. This beautiful destination is the last stop before one reaches the majestic Sela Pass (4170m), witness the splendor of this high mountain pass while you drive through it and further carry on the drive on NH 229 to reach your final destination of Tawang. A hub of Tibetan Buddhism, Tawang welcomes you with undeniable warmth even in the cold weather. Enjoy visiting the famed Tawang Monastery and soak yourself in the colour of sacredness here.
It is indeed wonderful to see how the journey leaves an indelible mark on us. Each step that we take towards an adventure brings us closer to real life and our grounds. It is therefore rightly said that 'Travel makes one modest', I hope this list of Top 20 Routes for Jeep Safari in India inspires you enough to connect more to yourself. Remember 'There is always more beneath any tip of an iceberg!'
Subscribe Now
Get the Latest Updates From Trekking In India Blog