10 Essential Trekking Tips For Beginners
Posted on Sat, 11 Oct 2014 06:34:32 by Arun Joshi
You can learn new things at any time in your life if you're willing to be a beginner. If you actually learn to like being a beginner, the whole world opens up to you.
-Barbara Sher (American business owner, career counselor, author)
Trekking is undoubtedly the exhilaration second to none. Many treks are strenuous and strictly not for novices. As an amateur trekker, you might feel a bit nervous as to what you should do and what you should not while on an excursion. Just because you are a beginner does not at all mean that you cannot carry out an exciting and memorable trekking tour. All that you need to do is follow some basic tips and guidelines. What are they? Let's explore…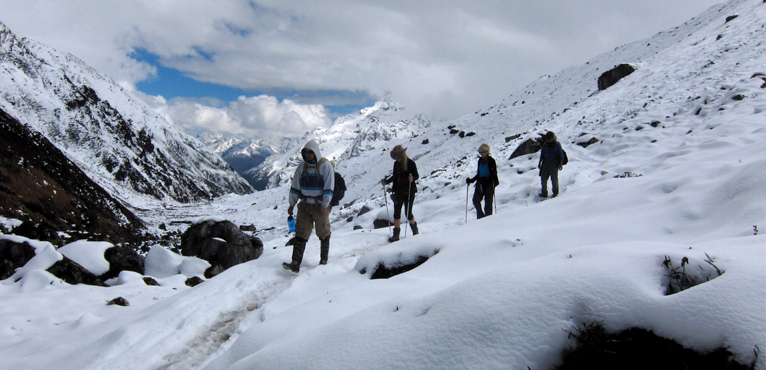 Choose an Easy Trek First
As you are a beginner, you should not go for the tough treks as they are generally meant for the experts and veterans. Choosing an easy trek first will be a wise move as you will get experience, enjoy the thrill and can relish a wonderful tour on such trek as a beginner. A tough trek may prove hazardous for you.
Make Certain That You are Perfectly Fit
Medical checkup should be the first and foremost priority before planning a trekking trip. While trekking, many trekkers suffer from cold, cough, stomach upset, etc. It is your responsibility to inform the trek manager if you have any medical problems. Moreover, while on the trail, you must tell him if you are suffering from dysentery, bad blisters, headaches or dizziness.
Research Can't be Compromised
The planning and research for the trek should be done very carefully. A proper research is extremely essential and its importance grows even bigger if you are a beginner. Only after you have done proper research on the location and climate that you may encounter during the trek, you can do further planning of your excursion.
Proper Scheduling is a Must
Make a comprehensive schedule when you are planning for your adventure; the schedule should be designed as per the climate and situation of the destination. You should make sure that you have informed a relative or a friend about your schedule, as they can come to your aid if you get into any problem.
What's the Budget?
Important factors of the tour such as expenses of food, accommodation, etc. should be given enough consideration while planning a budget. The money you are carrying should be a little more than what has been estimated, as there are many unforeseen expenses that may come up on the trekking trip.
Pack All the Essentials Carefully
As you are a beginner, you must know that the foodstuffs and clothes are something that may not be available during the trek. Hence, you must carry food and clothes in sufficient amount. The quality of the clothes should be good as during the trail, there is a possibility of clothes being torn. Moreover, it is not easy to wash clothes while on a tour.
While packing your rucksack, you must divide the equipments according to following sub-divisions:
What you are going to wear on the trail
What you have to carry in the daypack
What you are going to pack in the duffel bag
What are the Trekking Essentials?
Being well equipped with essentials is mandatory for a pleasant and enthralling trekking tour. Here is the list of items you must bring along with you on your trekking tour:
Waterproofed trekking boots
Running shoes
Down jacket or something like this that has a hood
A sweater as the weather may get chilly
Two cotton shirts
A pair of woolen trousers
Three pairs of underwear as you may wash them on the tour
Wind-gear and rain-gear having a hood
Sun hat
Woolen hat
Woolen gloves
Cotton socks
Woolen socks
Personal first-aid kit including medication for common ailments such as headaches, dysentery etc., moleskin, antiseptic cream, surgical tape, band aids, sun cream and medicines
Tablets to purify the water
Toilet kit that includes extra towel, toilet paper and soap
Torches with extra cells
Sunglasses (It is wise to bring an extra pair)
Water bottle that can hold sufficient water
Pocketknife
Swimsuit
Plastic bags
Weight daypack
Waterproof Duffel bag
Optional Accessories that You May Carry
Camera and film – bring plenty of them, as film is expensive and not easily available
Camera with many fully charged batteries
Binoculars
Umbrella
Extra water bottle
Additional Info: Permission for Filming
If you are planning to shoot a movie (with 16mm/35mm camera) during the trek, you must take permission from the government. However, there is no requirement of any permits for ordinary video shooting or photography.
You must be Familiar with Your Limitations
If you have no habit of walking very long distances, you should try covering short distances in a go. Fatigue is a general problem that the beginners usually face while on an excursion. You are one who is aware of your physical strength and endurance, so instead of letting others to decide for you make your own decisions. Keep your limitations in consideration.
You should keep up your confidence while trekking. As a beginner, you will feel the ultimate thrill on the trekking tour. If you follow all the tips and guidelines properly, you will complete a memorable tour that you will never forget in your entire life!
Subscribe Now
Get the Latest Updates From Trekking In India Blog