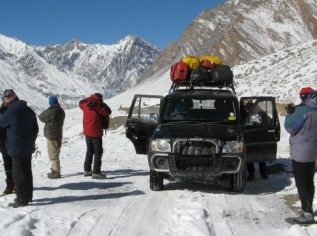 Adventure in India has so much to it; I mean you just cannot stop thinking what you want to do next; there ar [...]
If wide landscapes, deep green valleys, rolling hills and dense forests excite you, then there is no better destination than India. From moonscape of Ladakh to scenic tea gardens of Kerala, India is blessed with natural allure and to explore all this beauty, there is no better idea than jeep safari tours.
A jeep safari offers a blend of high adventure and spectacular road expeditions through known and remote areas of India including the ancient trade routes that presently act as wonderful off-beaten tracks. Though jeep safari tours are popular all over India, these expeditions are more suited for exploring the wildlife sanctuaries. Jeep safaris are a great help in North India as well.
Among various jeep tours in India, jeep safaris in Himalaya are immensely popular ones. The four-wheeled expeditions from Manali to Leh, Srinagar to Leh and further to Nubra Valley in Ladakh are the most sought ones. Travelers can also enjoy jeep safari tours up to high-altitude lakes like Tso Moriri and Pangong Tso in Ladakh. Along with these, travelers can take pleasure of jeep safaris in Zanskar Valley, which is a prominent tourist destination of Ladakh region.
For those who love to indulge in the pristine beauty of Mother Nature then the beautiful Garhwal and Kumaon regions in Uttarakhand are the best choices. Discover the rustic charm of Indian villages through jeep safari tours that allow tourists a deep insight into the rich cultural heritage of India.