Top 10 Trekking Tours to Ladakh Himalayas
Posted on Wed, 14 May 2014 09:56:11 by Arun Joshi
Let the magnetism of Ladakh take you on a roller coaster ride over its hilly terrains, deserted flat landscape that wears a new look on every turn and over its streams and lakes that add a tint of blue to this amazing region. Blessed with lofty peaks and high-altitude passes, "Little Tibet" (as it is popularly known) is a dream destination that every adventure aficionado wants to explore once in life. Whether it is rafting, mountaineering, jeep safari, mountain biking, motor biking or trekking, each activity has something interesting and challenging for thrill-seekers of every type. And when it comes to trekking tours in India, Ladakh truly emerges on the top.
There is no short of trekking trails in this land of passes, each with its own distinct identity and charm in the world of adventure seekers. From easy to moderate to tough, trekking in Ladakh is one of the most sought after activities among visitors. If you too want to experience the thrill of wandering in the jagged mountains and cold desert of Ladakh but are confused over how to choose the best Ladakh trekking destination then we bring for you the selected ones. Check out these top 10 trekking routes in Ladakh and select the one that perfectly matches your physical stamina and interest.
Markha Valley Trek – 11 Days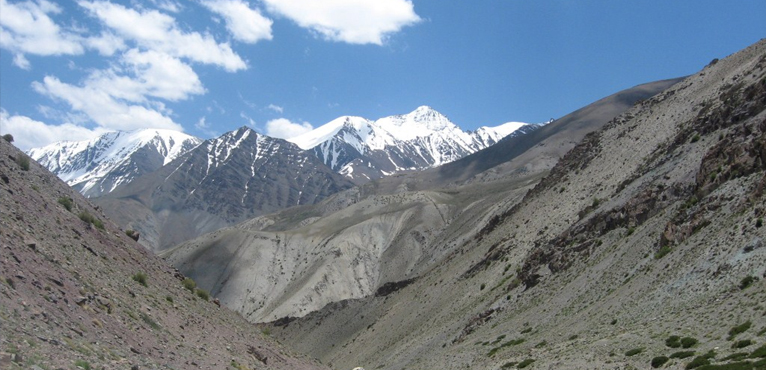 Remote yet colourful, challenging yet popular, Markha Valley Trek reveals the striking contrast of Ladakh's beauty. Endowed with fabulous views of Zanskar and Ladakh mountain ranges, it is one of the most sought after trekking routes in Ladakh. Also known as "TEA HOUSE TREK", the trek is full of memories like residing in parachute tents at villages that fall en route to Markha Valley. From Hemis National Park where you can spot a blue sheep or the ibex to passing through Ganda La (4800 meters) and Kongmaru La (5199 meters) and from waist-deep water crossing experiences at Markha River to rocky canyons with patches of wild flowers, this challenging trek has a unique fervor that captivates trekkers.
Trekking Route: Delhi – Leh – Spituk – Zingchen – Yurutse – Ganda La – Shingo – Skiu – Chalak – Markha Village – Umlung – Hankar Village – Thochuntse – Nimaling – Kongmaru La – Sukarmo – Sumdo – Leh – Delhi
Stok Kangri Trek – 18 days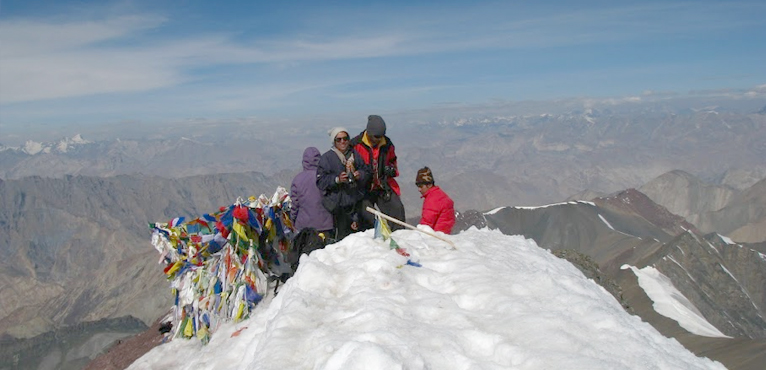 Considered as one of the most outstanding trekking routes in India, Stok Kangri puts your physical stamina and mental strength to the ultimate test. It is a strenuous trekking expedition that takes you into the wilderness of Zanskar Valley. Adding to this wilderness, the challenge of reachingIndia's highest trekkable summit (6122 meters) only adds to the excitement of trekking in Ladakh. Stok Kangri Trek is not meant for beginners, as even experienced trekkers find it difficult to complete. And that's why proper ACCLIMATIZATION is required for the trek along with excellent walking stamina as one has to travel about 10-15 km per day. A major feature of this expedition is sudden changes in altitude levels. While enjoying striking views of Himalaya and Ladakh Ranges, you will come across various scattered rural settlements, isolated valleys and monasteries jutting out through mountains as well as the landscape that changes colour from green to golden to white. Stok Kangri Summit Trek is a wonderful gift of nature for trekkers of the world. It is a perfect amalgamation of adventure and beauty.
Trekking Route: Delhi – Srinagar – Leh – Chilling – Skiu – Ganda La – Rumbak – Stok La – Mankorma – Stok Kangri Base Camp – Stok Kangri Summit – Stok Kangri Base Camp – Stok – Leh – Srinagar – Delhi
Note* The trek is only meant for those experienced trekkers who can spend more than 10 days in the harsh climatic conditions and elevated mountains of Ladakh.
Lamayuru Alchi Trek – 9 days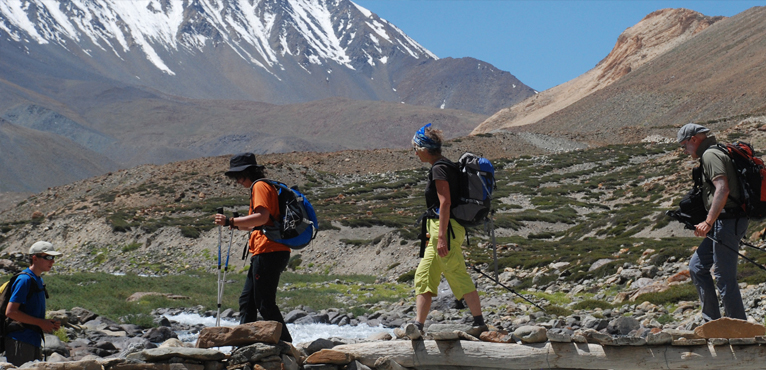 It is obvious that among the popular trekking trails in Ladakh, most of the treks are full of thrill and excitement. But if you are looking for a trek that offers a moderate level challenge as well as takes you into the spiritual zone of Ladakh then Lamayuru – Alchi trek is just perfect for you. Visit some of the historical yet significant Gompas of the region and get an opportunity to look into the rich cultural treasure of the "Land of Passes". Admire the unique beauty of Ladakh and come close to your inner-self and power through meditation at any monastery that falls en route. The trek begins at Lamayuru, which is believed to be one of the oldest monasteries  in the region and ends at Alchi. Apart from villages and monasteries, Lamayuru – Alchi trek also gives trekkers the opportunity to cross four passes in the Ladakh region, namely Pritikingir La (3506 meters), Panji La (3400 meters), Kongske La (4900 meters) and Stakspi La (5177 meters).
Trekking Route: Delhi – Leh – Lamayuru – Pritikingir La – Wanla – Panji La – Hinju – Kongske La – Sumdha Chenmo – Sumdha Chun – Stakspi La – Alchi – Leh – Delhi
Nubra Valley Trek – 10 days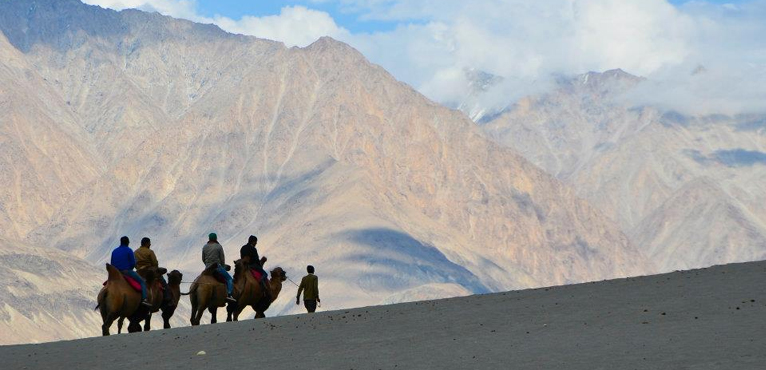 Placed at an elevation of about 400 meters lower than Leh, Nubra Valley is known as "Orchard of Ladakh".  Despite its barren topography, the valley is gifted with the hues of wheat, barley, apple, orange and of course beautiful blooms. Thanks to its mild climatic conditions that makes this valley one of the most striking parts of Ladakh region. Also known as the "Valley of Flowers", the valley is thronged by a large number of trekkers from all the corners of the world. Nubra Valley Trek gives you ample time to unearth the worthy possessions of this valley of Ladakh region. Diskit and Samstanling monasteries are the main Buddhist peace houses that you come across during the trek. Apart from historical gompas, this trek also passes through world renowned Khardung La, one of the highest motorable passes in the world. This high-altitude trek requires immense physical strength and stamina. While trekking all across the valley, wanderers can also enjoy double-hump 'Bactrian Camel' rides in the white sand dunes of Hunder Village of Nubra Valley.
Trekking Route:  Delhi – Leh – Phyang – Lasirmo La – Hunder (Nubra Valley) – Khalsar – Digger La – Saboo – Leh – Delhi
Note* A seven day permit is required to visit Nubra Valley.
Frozen River Trek – 13 days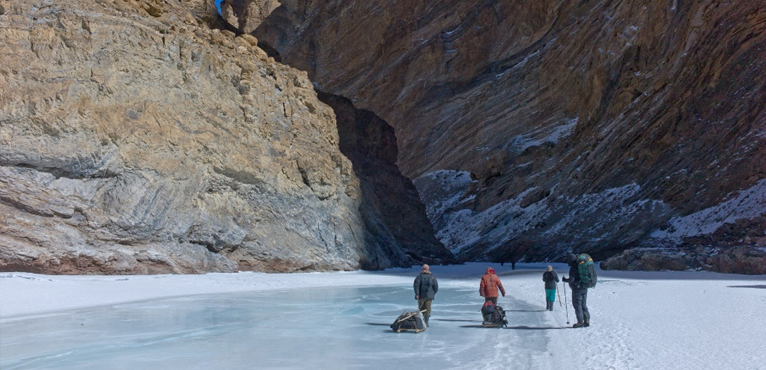 Frozen River Trek, the name itself is enough to give a spine-chilling feel. The frozen view of Zanskar River along with high mountains and freezing temperature make this trekking trail one of the most adventurous and best treks that you will come across in Ladakh. Unlike most of Ladakh's trekking routes that usually start in summers, Frozen River Trek is completely a winter trek. The blanket of ice formed over Zanskar River, gives this trek another name "CHADAR TREK". It is a desolate trek that will test your mental stability a lot. Ice forms, breaks and even changes colour; at some points as well as at some places you are even not able to figure out the Chadar of ice and may fall or slip occasionally. And adding to this mirage of snow is the harsh climatic conditions. Average day temperature of Zanskar Valley during winters is somewhere near to -15 ºC while at night it falls sharply and reaches up to -30 ºC. If you have enough guts to take on the harshness of weather and terrains of Zanskar Valley then Frozen River Trek is not a difficult one for you to conquer. It is relatively a flat trek in comparison to most of the treks in Ladakh.
Trekking Route: Delhi – Leh – Chilling – Zaribago – Deepyokma – Nyrak Pulu – Lingshed – Deepkongma – Warsanglo – Pishu – Karsha – Zangla – Sarakdo – Nyrak Pulu – Tsomo Do – Tilatdo – Chilling – Leh – Delhi
Note* It is an expensive trek in comparison to the others as you require heavy woolen clothes, gumboots and extra fuel for cooking and to keep yourself warm. Even the porter rates are double.
Snow Leopard Trek – 13 days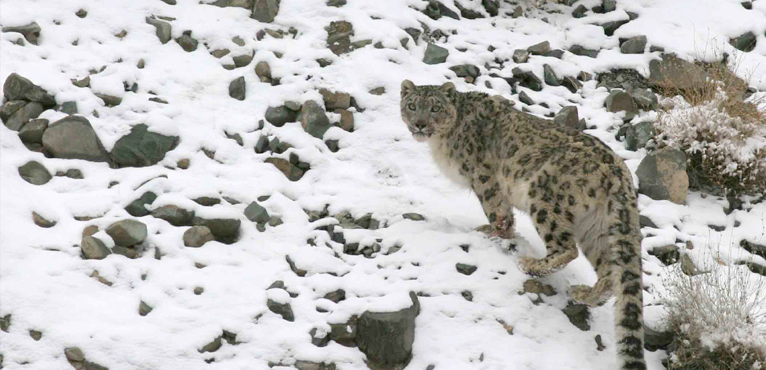 Add the excitement of wildlife spotting with the thrill of trekking exploration, go for Snow Leopard Trek in Ladakh and you will find why it is among the popular trekking trails in Ladakh. The trek is mainly concentrated on the exploration of HEMIS NATIONAL PARK. Located in the eastern part of Ladakh, Hemis National Park is a major attraction of the region. Spread over an area of 600 sq kms, the park is basically a high-altitude protected area established for the protection and conservation of unique Himalayan flora and fauna species. While trekking around the park, explorers can spot several rare and endangered species such as snow leopard, Ibex, Tibetan antelope, blue sheep and Golden Eagle. It is good not to choose the short expedition route as the trek is full of adventure. Freezing temperature and the thrill of spotting SNOW LEOPARD along with other native animals make it a memorable attraction of Ladakh trekking guide.
Trekking Route: Delhi – Leh – Rumbak – Hemis National Park – Leh – Delhi
Rupshu Valley Trek -16 days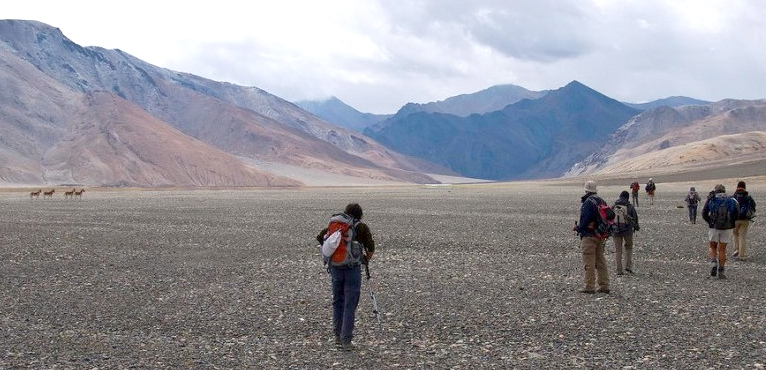 From the majestic deserted look to lofty passes, discover what makes Rupshu Valley so striking while trailing through Rupshu Valley Trek. The trek offers wonderful opportunity to venture into the wilderness that envelops the valley and get close with the nomadic lifestyle of Changpas. Meant for adventure aficionados, Rupshu Valley Trek brings you in direct contact with the harshness and roughness of high-altitude deserted cold where yaks and sheep are the only sources of subsistence. Spread over 8851 sq km of area, Rupshu Valley is adorned by most of the lofty peaks of Zanskar and Ladakh ranges along with many crystal clear lakes including the iconic Pangong Lake and Tsomoriri. During this trek, you will come across few notable passes of India like Rohtang Pass and Baralacha La. Rupshu Valley is located southeast of Leh and is originally a part of Changthang, a 15,000 ft high plain of northern part of Tibet.
Trekking Route:  Delhi – Manali – Sarchu – Tak – Morang La – Daktho – Yabook – Sangtha village – Lungmo Che – Dango village – Dat – Sorra – Zalung Karpo La – Langthang Chu – Hankar Sumdo – Nimaling – Kongmaru La – Shang Sumdo – Hemis – Leh – Delhi
Lamayuru Padum Trek – 18 days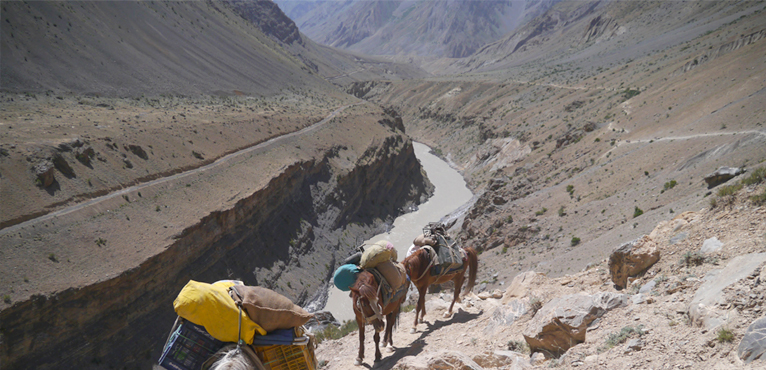 As the name indicates, this trek of Ladakh starts from Lamayuru monastery, one of the oldest Gompas in Ladakh and after crossing various nomadic villages and lofty passes, it finally reaches Padum. Named after Guru Padmasambhava, Padum is the main administrative centre in Zanskar Tehsil of Kargil district. It is also one among the two historical capitals of Zanskar Kingdom. So, venture into the remoteness of that area of Ladakh that is still not accessible through vehicles. Through Lamayuru-Padum Trek, look into a distinct world that is way far behind modern phenomenon. Nestled between Himalayan Range and Indus Valley, this strenuous yet adventurous trek gives trekkers the pleasure of wandering and exploring some off-beaten attractions of the region. The most striking notes of the trek are high mountain passes, snowcapped peaks, Buddhist Gompas, charming villages and fields of potatoes and barley. All these notes add their colours to this remoteness and make it more attractive and praiseworthy.
Trekking Route: Delhi – Leh – Lamayuru – Hanupatta – Sirsir La – Photoskar – Bumiktse La – Photang Valley – Singge La – Kiupa La – Gongma – Skiumpata – Margum La – Lingshed – Hanuma La – Snertse – Parfi La – Hanumil – Pishu – Rinam – Karsha – Padum – Pensi La – Kargil – Leh – Delhi
Trans Zanskar (Darcha – Padum) Trek – 15 days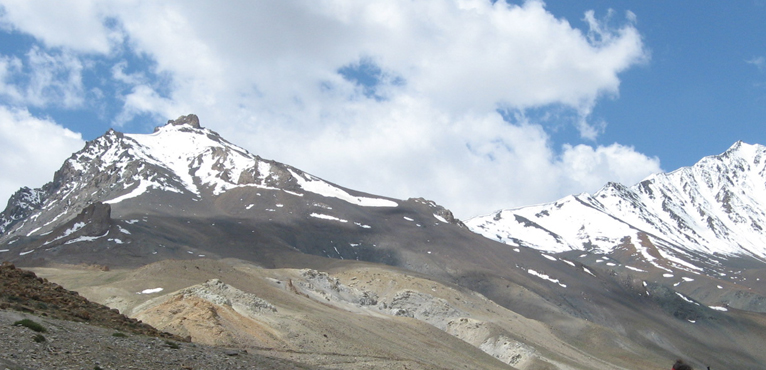 Though there are several popular trekking routes in Ladakh, the excitement associated with the exploration of Zanskar Valley is a dream of every trekker.  Snowy high passes, historical monasteries and scattered villages where life seems harder than harsh weather conditions and amidst all these, the cascading Zanskar River that transforms into a frozen stream during winters are the main attractions of Zanskar So, if you want to wander in the rugged terrains of Zanskar Valley then Trans-Zanskar Trek is the perfect choice for you. It is one of the most adventurous yet tough trekking expeditions in Ladakh and is thus meant only for experienced daredevils. Starting from Darcha, trekkers have to cross a series of lofty mountains with elevation somewhere around 6000 meters followed by high and steep passes before reaching the final destination of this interesting expedition, i.e. Padum. En route wanderers can visit ancient monasteries like Lingshed, Sani and Phuktal as well as the green views of pea and wheat field that not only add colour to the barren desert but also offer great respite to your tired eyes.
Trekking Route: Delhi – Manali – Rohtang Pass – Keylong – Darcha – Palamo – Zanskar Sumdo – Chumik Nakpo – Shingo La – Lakhong – Kargyak – Kuru – Testa – Purne –Kheydang – Phibula – Raru – Padum – Kargil – Leh – Delhi
Sham Valley Trek – 7 days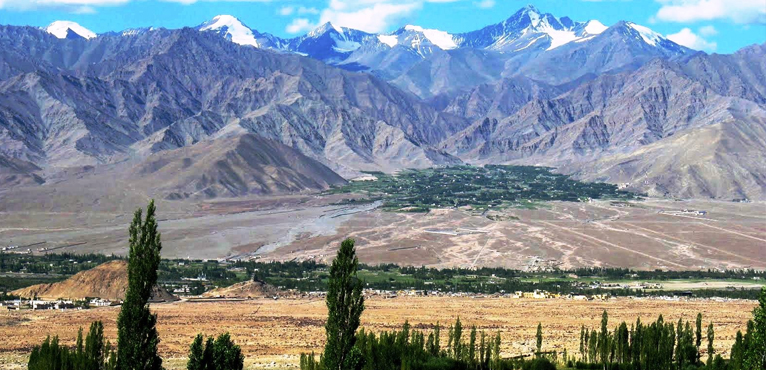 Despite being the easiest trek in Ladakh, Sham Valley Trek attracts a large number of trekkers and vacationers. Adorned by low passes and elevations, this trekking trail is meant for people of all age group. Being one of the top trekking routes in Ladakh that is meant for beginners, Sham Valley trekking experience is full of exciting and interesting memories. Experience the rustic charm of Ladakh when you come across several villages on the way. Giving your mind and body a peaceful abode to rest are the ancient Gompas that adorn the trekking route to Sham Valley. Some of the popular Gompas that fall en route are Temisgang, Likir, Ridzong, Alchi, Phyang, Hemis Spituk and Lamayuru. Trekkers can get familiar with the untouched world of Ladakhi household while staying at local houses that serve as "HOMESTAYS".
If you want to capture some beautiful shots of the landscape then also Sham Valley Trek is full of colours. Sham Valley is also known as 'Apricot Valley' and it turns into an eye-catching beauty during the blooming season of Apricot. The sprawling gardens of apricots and apples along with green views of rice fields make Sham Valley one of the most beautiful areas of Ladakh region.
Trekking Route: Delhi – Leh –Likir – Phobe La – Sumdo – Chagatse La – Yangthang – Tsermangchen La – Hemis Shukpachen – Mebtak La – Ang – Temisgam – Leh – Delhi
Subscribe Now
Get the Latest Updates From Trekking In India Blog