Nubra Valley – The Land of Cold Dessert
Posted on Wed, 04 Jun 2014 12:07:14 by Arun Joshi
A charming destination perched at an elevation of 10,000ft above sea level in the state of Jammu and Kashmir; Nubra Valley is one of the most amazing valleys in India, and a destination where a holiday would feel like a divine dream. It is nestled just 93 miles from the city of Leh and also dubbed as the valley of flowers. One will certainly feel mesmerized by the perfect mélange of majestic mountains, crystal clear river and bright green beauty.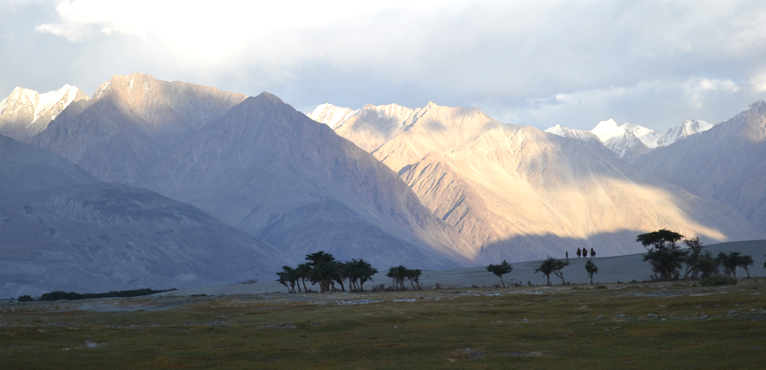 Being nestled at such an altitude, it is the perfect place for everyone; be it trekkers, adventure freaks, family or nature lovers. Certainly, it is a not-to-be-missed destination on when in Ladakh. Famed for its scenic views, monasteries, orchards and valleys, one should have a permit to travel to Nubra Valley and that can be attained from the Leh Town. It is enveloped by snow covered Himalayan ranges and the vista of the valley is spectacular and striking. During summer, the valley looks like heaven as if god has poured all its beauty into this region and in the winter, it looks like the attention-grabbing moon landscape.
Scout the charms: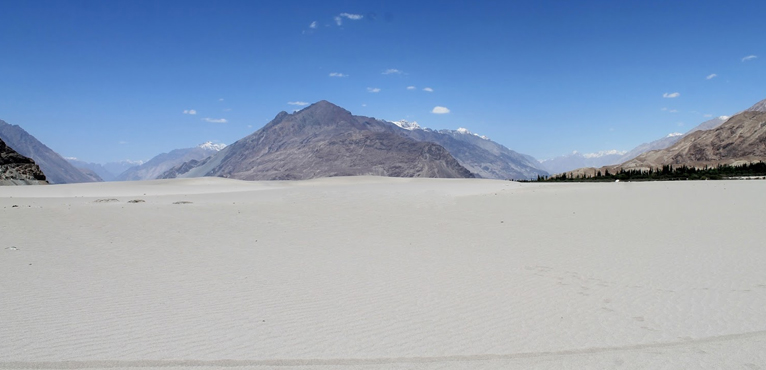 This scenic valley is the dwelling place of mainly the Buddhist population and so you would find a number of splendid monasteries and temples like Lachung Shrine, Samstanling monastery, Hunder Monastery, Maitreya Buddha and  Diskit Monastery. Paying a visit to these beautiful monasteries would be a superb option as you will get to learn about Buddhist culture and tradition and have a wonderful experience of a lifetime. Further, the tranquil ambience of these monasteries will certainly make you feel divine and peaceful. Besides this, you can visit the small villages that are situated along the valley. Villages like Tirith, Sumur and Panamik are well known for scenic exquisiteness and hot natural springs. The other famous attractions you can scout in Nubra Valley are:
Cold Desert: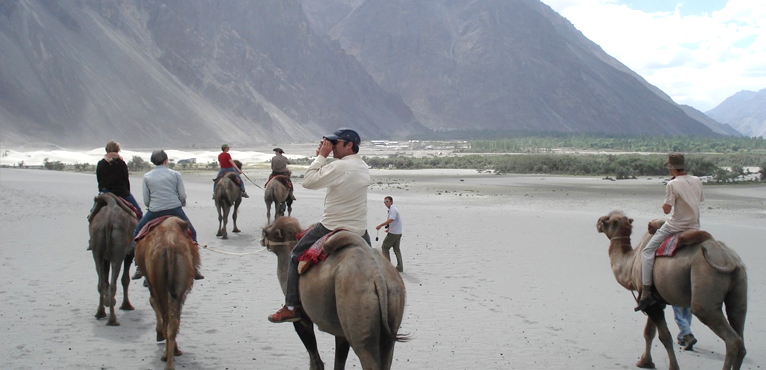 A fabulous place that allures travelers the most on their tour to Nubra is the cold desert among Diskit and Hundar. One can witness the sand dunes and relish rides on Bactrian camels. These camels are found only in Hunder and in the ancient times they were used for transportation. One can also buy some goods like Pashmina shawl; locals produce like apricots, apples and staple crops like barley from Nubra.
Panamik: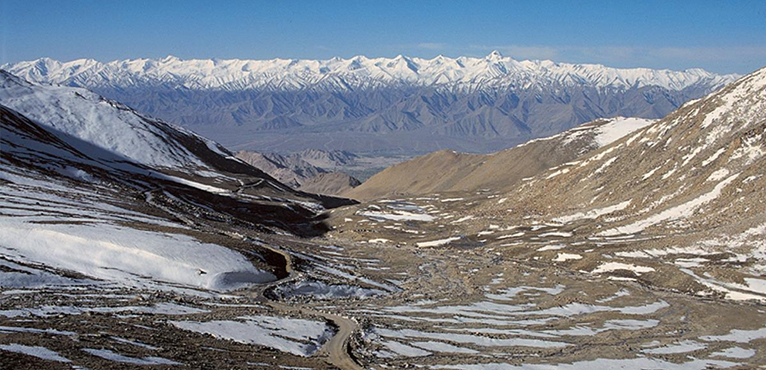 Nestled at an altitude of 3183 m above sea level in proximity to Siachen Glacier, Panamik is renowned for its natural hot springs and is enveloped by striking snow covered mountains. It is a wonderful place to purchase woolen socks, Pashmina shawl and Kashmiri carpet.
Yarab Tso Lake: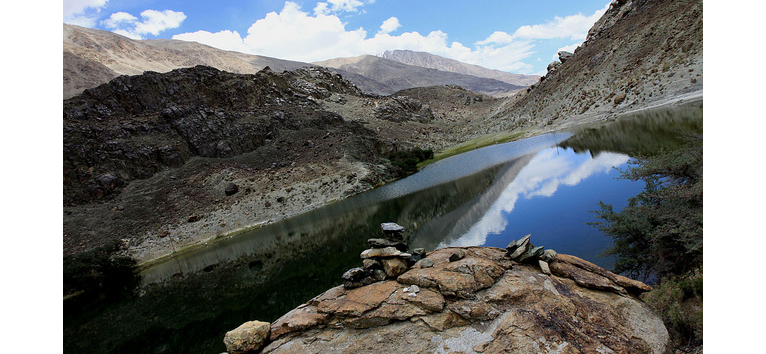 Yarab Tso Lake is one of the highly visited attractions of Nubra. Located just 7 miles from Diskit close to Sumur village, it tenders a splendid surrounding that will win the heart of any traveler. It has sparkling water and offers an easy trek of just 15 mins from the last village of Nubra Valley- "Panamik Village".
Nubra Valley Trek:
Amongst the most popular treks in Ladakh region, Nubra Valley trek goes through Khardung la, which is situated at a height of 18380ft and offers amazing views which some like to compare with that found in Switzerland. The main attractions of this trek are Thikshey Gompa, just 11 miles from the stunning town of Leh and Shey Gompa, just 8 miles away from the town. Further, the trek leads you through Kanor Monastery which is one of the famous monasteries in Ladakh. Being one of the splendid trekking trails of Ladakh, it draws the attention of tourists from every nook and corner of the world. One has to be physically fit to embark on this trek for it may last up to 10 days in the picturesque environment. While packing your bags for this adventurous tour, make sure you carry clothes, water and snacks. Moreover, get your health check- up done as you will be spending a lot of time at high altitudes.
Best time to visit: June to September is the perfect time to plan a trip to Nubra Valley.
Getting there:
By Air:
Leh Kushok Bakula Rinpoche Airport is the nearest airport to Nubra Valley, Just 120 kms away. One can take a jeep or bus from the airport to arrive at Nubra Valley.
By Rail:
Ladakh does not have its own railway station. The closest railhead to reach the valley is the Jammu Tawi Railway station, just 620 km away.
By Road:
It is well connected with main cities of India like Manali, Chandigarh, Jammu and Srinagar, Leh by good motorable roads. The route to Nubra Valley is awe-inspiring and filled with surprises of Nature.
Leh- Phyang- Khardung La Pass- Khardung Village- Khalsar- Diskit- Hunder- Sumur- Panamik
No sound of daily chaos but the gentle breeze of the fresh air; crystal clear water flowing by your side and so much more to experience. Your trip to Nubra Valley will provide you with wholesome experiences that will be etched in your mind forever.
Subscribe Now
Get the Latest Updates From Trekking In India Blog