How to Select the Perfect Trekking Shoes?
Posted on Thu, 30 Oct 2014 05:34:10 by Arun Joshi
On a trekking trip, the trekking gear you carry plays an important role in the success or failure of your trip. It is essential that you carry all the necessary things that you may require during the trip, because otherwise there may be, say, an exigency and you would be found wanting. Among the various trekking essentials, shoes play a prominent role and purchasing the perfect pair of trekking shoes is certainly not a herculean task. All you need to do is to follow some basic tips for choosing the right pair of trekking shoes.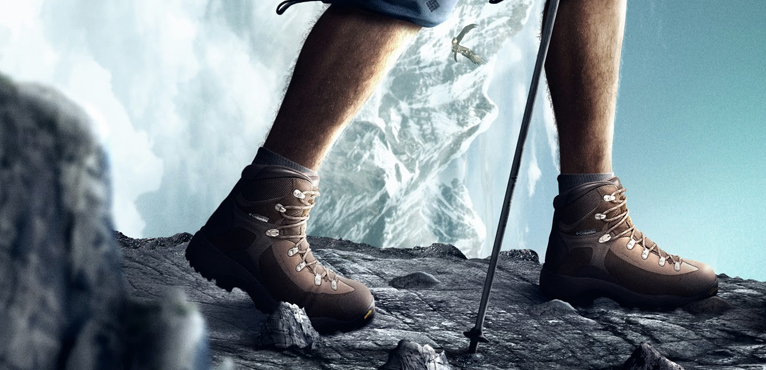 You must take sufficient time in making a choice as hasty shopping would result in ending up buying a bad pair. The trails in a trek usually have a diverse turf and this increases the probability of getting hurt or injured. If you get badly injured, you may even have to discontinue your excursion halfway. To avoid such mishaps, you must make certain that the pair of shoes you are buying is appropriate for your trekking expedition.
Choosing the Right Trekking Shoes
Here are some basic tips that can help you in choosing the best trekking shoes:
The perfect pair is one that fits snugly: Comfort should be the first and foremost priority while selecting the ideal pair of shoes for trekking. Especially, the sole should have cushioning as you have to transverse through rough and taxing turfs where your legs will face the real test.
It is wise to choose one size bigger: On long trails, your feet swell a bit and hence the shoes with a bigger size will help accommodate it. If you go for exact fitting or tight ones, you will feel highly uncomfortable at such instance.
Take a trial walk before purchasing: At the time when you are choosing among the various trekking shoes, you must try a little walks on diverse surfaces like marbled, rough, subtle, etc. This exercise will help in checking the grip of those particular shoes.
Shoes' being waterproof is necessary: While on a trek, you will come across various water bodies. For this reason, you need to purchase waterproof shoes. The shoes devoid of this feature will add more weight while sloshing through these water bodies in the trek.
Material used in the shoes should be of top quality: Trekking tests the endurance of the shoes. Therefore, the material used for manufacturing the shoes should be of excellent quality. You cannot afford your shoes to give up on you in the midst of your trek certainly.
Try with socks similar to those you are carrying on trip: At times, when trekker is done with choosing the trekking shoes, he finds it uncomfortable with the pair of socks during trek. Thus, you must make certain that you have tried the shoes with the similar or same socks that you are going to take on the tour.
Go for a pair having adequate air circulation: It is important for the feet to breathe properly while heading on long and tedious trails. The trekking shoes with proper scope for air circulation will offer them the required air. Your feet will get tired soon and it is harmful to travel long without providing air to the feet.
Take benefit of seller's expertise: The sellers, in most cases, are experts in shoes and can tell you which type and pair will suit you the best. Thus, you must try to take advantage of their knowledge requesting them to suggest you various options. In addition to this, you will get many tips regarding how to take care of the pair for making the shoes last longer as well. Just tell them what exactly you are looking for and they will certainly assist you in the best way possible.
Take proper care: Purchasing the perfect pair of trekking is certainly not the end of task. You must take proper care of your shoes. If you take good care of your shoes, you may be able to use them in the future. Waterproofing, cleaning and polishing are something that you should do on a frequent basis to avoid spoiling them earlier than their normal life.
Additional suggestions: After buying the ideal pair of trekking shoes, break them in before embarking on the trekking tour. It is advisable to wear the trekking shoes you have bought while performing the training for your trip. In this way, wearing your shoes prior to the trip will make the shoes lose their stiffness and will be shaped to your feet as well.
Follow the above-mentioned tips to offer your feet comfort and safety while encountering thrills and spills on the trekking trip.
Subscribe Now
Get the Latest Updates From Trekking In India Blog