Do's and Don'ts of Chadar Trek: Tips for a Safe and Enchanting Journey!
Posted on Wed, 15 Oct 2014 06:33:21 by Arun Joshi
"The very basic core of a man's living spirit is his passion for adventure."
-Christopher McCandless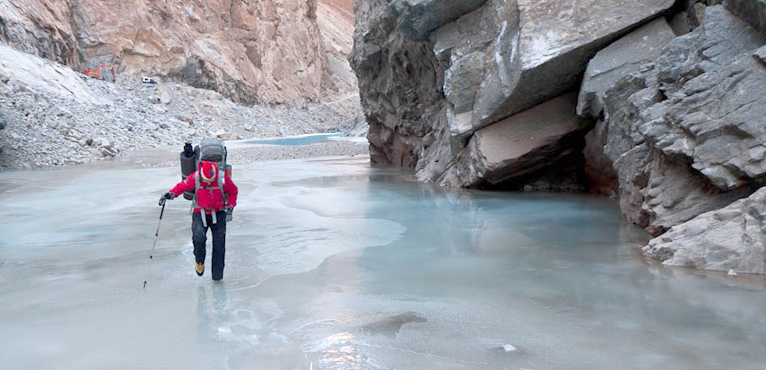 Created by the freezing of the Zanskar River, Chadar trek or the frozen river trek of Ladakh is a challenging adventure that is second to none. The placid environs of the region accelerate the adrenaline in the trekker's body and encourage them to move on the tricky trail. The natural beauty and wonderful monasteries leave the adventurer awestruck and render a once in a lifetime experience.
This trek is a test of stamina and endurance of a traveler and demands fervor for encountering thrill. There are some do's and don'ts that trekkers should keep in mind when going out trekking on the Chadar Trek to ensure a safe and pleasant trekking experience. What are they? Let's explore…
Do's of Chadar Trek
First of all, one should make sure that one has informed someone in the family/friends about the itinerary. Someone back home should know about the schedule so that in case of any mishap they can come for help.
The temperature extensively drops down in the region. Therefore, it is advisable to keep warm clothes and shoes at hand. The shoes should also be waterproof.
As the trek is challenging, one should bring along medicines and first aid kit. Getting cuts and bruises is something very usual in this area.
The area covered in Chadar Trek is pristine and the availability of food and water will be rare. For this reason, one should keep enough water and energy providing food, which will help one pull through testing times.
Large number of monasteries and temples are there on the way and thus it is important to wear appropriate cloth in order to ensure that you don't end up offending religious sentiments of a particular community.
Don'ts of Chadar Trek
The route of Frozen River Trek is known for its bewildering ambiance and exquisiteness distributed all around. It is the responsibility of every trekker to maintain the serenity of surroundings. Thus, one should not litter anywhere and spoil the magnificence.
The wonderful waterfalls should not be contaminated by the use of shampoos and soaps. Thus one should avoid using them. The local habitant tribes use this water for drinking purpose.
One should never touch or point fingers at the monasteries as the local people may take it as an offence against their sacrosanct shrines.
Respect the serenity of the shrines and thus one should never disturb the monks or prayers in the monasteries on the route.
Trekking in Frozen River is certainly a difficult task and thus, one should not try to be over-smart. Following the tips and guidelines is must to carry out trekking in this trek safely.
Some Additional Info:
Grade of Trek: Difficult
Approximate Duration: 13 Days
Maximum Height: 3390 Meters
Approximate Distance Covered: 70 Kilometers
Best Time for trekking in the Chadar Trek: Extreme Winter (January and February) is the best time for carrying out frozen river trek.
Chadar Trek is undoubtedly not for novices as this demanding trek incorporates many risks and thus expertise can't be compromised. Completing this trek safely makes the trekkers feel like they are on cloud nine. It is only possible if the adventurer considers the above-mentioned do's and don'ts properly!
Subscribe Now
Get the Latest Updates From Trekking In India Blog