Benefits of Trekking - Good for the Mind, Body and Soul
Posted on Thu, 06 Nov 2014 12:30:44 by Arun Joshi
Embarking on an adventure holiday is probably the best way to have some fun-filled time and to test one's stamina and endurance levels. There are not many adventure activities apart from trekking that offer as much excitement and thrill. The urge to test one's physical endurance, discover unknown territories, understand the fragility of mountain ecology, study the existence of flora and fauna at high altitude, and learn about distinct geography is what drives people towards trekking. The scope of discovering the many hidden secrets of Nature in a fun-filled environment makes trekking no less than a crash course in Nature. Trekking is an activity that challenges the physical as well as the mental aspects of an adventure fanatic. This adventure activity offers an amazing adrenaline rush and you will be really surprised to know that trekking also leads to some permanent benefits. Let's explore some of the positives of trekking.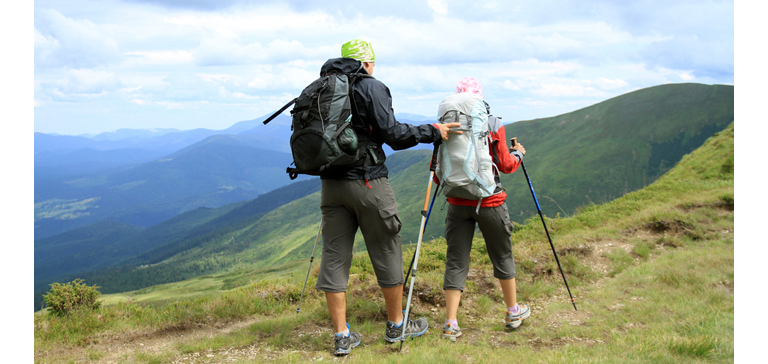 Whole Body Workout
One of the major benefits of trekking is that it leads to the whole body workout that helps in improving the health significantly. It is an activity that continuously tests strength (particularly of the legs) of individuals. During trekking, our body is constantly on the move due to which the muscles get stretched, like when a trekker tries to cross a lake or climb a mountain. When the trekker heads home after completing the trekking expedition, he/she will carry along a newfound energy and peace of mind.
Reduces Stress
Many people from different parts of the world carry out trekking expedition in various parts of India just to get away from the troubles of day-to-day life and to give themselves a much needed break; and what better way to achieve spiritual fulfillment than through trekking in India. Trekking is a proven solution for reducing stress while at the same time having an enjoyable time. It is indeed a great outdoor activity that offers a wonderful opportunity to the adventure lovers to feel refreshed and knock out negative thoughts. During your trekking expedition, you would get many opportunities to marvel at the enchanting vistas of nature and it will definitely helps you to erase many of your worries.
Good for the Overall Health of the Body and Joint Problems
It cannot be denied that trekking requires great stamina for it involves physical tasks like crossing rugged terrains, bridges; climbing high mountain peaks and so on. Trekking in the Indian sub-continent is invariably an unforgettable and pleasurable experience. According to several physicians and health experts, trekking, besides being an adventure activity can also be considered as a very good exercise to build muscles of the arms and legs. That is not all as the continuous walking over long periods of time helps in minimizing blood pressure and reduces the pain in the joints.
Bonding with Family Members
If you are trekking with your family members, then it goes a long way in strengthening the bond of love and trust between the family members. It is always a very memorable experience. Most of the times our frenetic lifestyle sucks us dry and hardly leaves us enough time to bond and spend precious moments with our beloved family members. So whenever you get some free time it is the moment to make up for lost time and make amends, and trekking is just the ideal tool for the purpose. Trekking allows you to spend quality time with your near and dear ones, and since you also get to learn so much about each other while dealing with the obstacles that trekking throws at you, you get to learn more about one another. It certainly helps you to spend some enjoyable moments with them and have the best holiday experience that you cherish for a long time.
Enjoy the Stunning Outdoors
Trekking is certainly meant for all those people who just love to spend time outdoors witnessing the many splendors and facets of nature. One of the great things about this particular activity is that it provides an enthralling experience to those who want to enjoy the tranquility and serenity provided by the environment. The verdant landscapes, beautiful backdrops and clear blue waters will even draw the attention of the unwilling individuals to embark on a trekking tour.
New Culture Acquaintance
People in the remote areas on many occasions have been forced to live a harsh life and are not very conversant with the way of life of tourists who travel here from and different parts of India and abroad. While trekking, one would come across language barriers, and the resourceful ones among them will by the end of tour even manage to overcome these barriers which would be nothing less than victory of the human spirit. Some villagers might behave with hostility towards the travelers, so it is important to not do things that may touch their sentiments and always be polite and diplomatic. But they constitute only a very small fraction of the villagers, who otherwise are very accommodating and warm always eager to help the traveler. India is culturally diverse, trekking in the different terrains dotting across its vast area would give you an idea just how diverse and unique they are from one another. You can in fact do a case study as well on the different tribes and communities inhabiting there! Differences can be observed in the lifestyle, food habits, cooking methodology, community participation, festivals, among others.
The Sky Appears Brighter in these Unpolluted Regions
Trekking is generally undertaken in serene and tranquil places that are away from the noise of pollution that are normally associated with cities. Pollution in some cities have reached such levels that it blocks the sky; so people in such places get deprived of the charm of watching the morning sky in its full glory or the sunset in its most glamorous. Almost all the trekking destinations in India are serene and free from anthropogenic pollutions and give travelers memorable experiences that they will cherished for years to come. Popular regions where trekking can be carried out in India include Uttarakhand, Ladakh, Himachal Pradesh and Rishikesh. The sky appears clear and romantic, a picture many amongst you would love to share with your loved ones when you camp on the way during the trek.
Marvel at Amazing Wildlife
Trekking in destinations throbbing with exotic wildlife is an excitement in itself. However, before you head off for trekking, do make sure that you have all the trekking essentials in place. Also, do some research work on the place you have chosen for the trekking expedition, nearby places to visit, best place to stay, and other such information. Wildlife watching is an excellent activity to do during trekking as it gives a great chance to augment your knowledge about the habitat of the animals, their diet and behavior.
Photography
Many photography enthusiasts come from various nooks and corners of the world for trekking in different parts of India to capture the beautiful images through their digital cameras. Many trekking destinations in India are replete with stunning natural beauty and serene locations. The images that you capture here are not like any other photo that you forget in a few days after posting in your Facebook or G+ account, but it will leave a deep imprint in your heart; more importantly, it can even encourage others to visit these wonderful destinations.
Where to Begin in Himalayas
You can experience all the good things mentioned here in the enchanting Himalayan regions of India. Trekking in the Indian Himalayas includes regions of Garhwal, Ladakh and Sikkim offering some of the most challenging treks. Many of these destinations are located in some of the remotest areas and are covered with various hill villages and towns where exceptional sights of unheard and unseen culture could be glimpsed. Trekking in Dodital, Chopta Chandrashila, Dayara Bugyal, Auli Gorson Bugyal, Har Ki Dun Valley, Kedar Kantha trek and Nag Tibba in Garhwal; Frozen River, Ladakh Zanskar, Markha Valley, Nubra Valley, Indus Valley and Tsomoriri Lake Trek in Ladakh; and Dzongri – Goecha La, Green Lake, Rhododendron Trek, Singalila Sandakphu, Kanchenjunga BC Trek in Sikkim are great trekking destinations to start your trekking expenditure in the country.
It is quite clear that trekking is one of the best ways to get rid of the stress, which is a result of our modern lifestyle, and to rejuvenate the mind, body and soul. The benefits that individuals can derive by embarking on a trekking tour in India are too many to count. So, what are you looking for? Apply for a leave from your office today, book a trekking expedition and get refreshed in the lap of the Mother Nature.
Subscribe Now
Get the Latest Updates From Trekking In India Blog